Events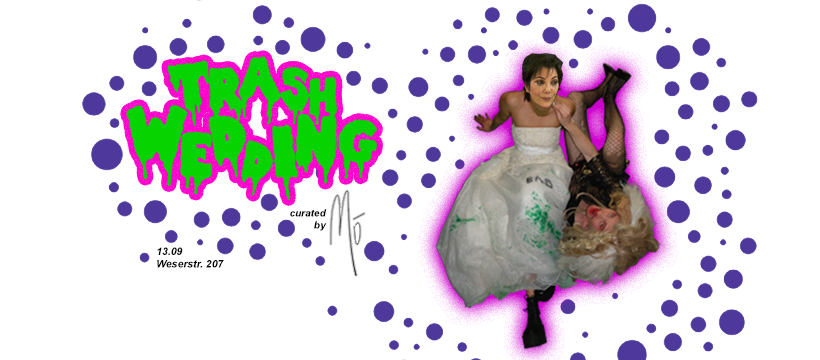 TRASH WEDDING is an exercise in poor taste. It exists to shit on the tired notions of life that we still grip onto and are ruled by. It makes the necessary unnecessary, defines importance by being unimportant, laughs at convention through its own ritual, and is at once happy and unhappy. Hosted by Staski Jones, writer and producer of Dorzaman Shorzaman: late-night trash TV show! Staski will guide you through the night, armed with her Bone of Eternal Regrets, and an official $20 marriage license from ChurchOfLife.com!
Turn up at the altar with your trash marriage partner (animals, timewasters and rambling vows encouraged), and Miss Jones will be your trash wedding officiator! Smile for the camera, take your trash certificate, then pass the Bone of Eternal Regrets on to the next unlucky couple and enjoy the rest of your lives together…really.
So pack your clutch, head down to Neukölln with your finest trash gown, and sign your life away!
Entrance: 5eur
Doors 8pm
Ceremonies from 9pm
Dance to Dada Disco and more from 10pm
Mō Gallery is going 48h Neukölln at Kaduka Bar! Join us for this special 2 day exhibition:
Artist:
RAMÓ is an artist born in Quito, Ecuador. His artistic line of work questions language and seeks to reinterpret ancestral symbols placing them within a contemporary context. Fine arts, visual arts and multidisciplinary design have been his main fields of inquiry and work.
An important creative approach is the one that he has developed as a designer and art director for the Ecuadorian music band "Swing Original Monks". In collaboration with them he has produced within the lines of graphic design, scenography and visual arts. He has a peculiar boldness that is reflected in the way that he treats images.
These facts make Ramó a provocative and impulsive creator (cambié por personaje pero sino te gusta puedes poner character). His last pictorial research revolves around the experimentation with signs, enhancing a deep examination of writings and graphs from Prehispanic times. This has evolved and become along time a creation of an imaginary writing system, which is combined with a more classic plastic language in his current work.
The result from such investigation is a proposal where realist techniques of painting dialogue with reinterpreted symbols from Latin-American culture and geometry. The piece "Signes" was exhibited in the Fine Arts Martillo studio in Barcelona (Spain) and in the Woodfers Gallery in Miami (U.S), during 2016.
In June 2017, he inaugurated his work "Ofrenda", coinceived and performed together with architect and contemporary artist Felipe Escudero. The exhibi- tion was part of the II International Meeting of Arts Research organized by University of the Arts in Guayaquil City. Ramó's quest this time was focused on semiological research and recoding processes. He looks to deepen into past to reach another future, an aspirational one, for which it uses an imaginary system of visual pieces installed as an encrypted alphabet, using stone and acrylic painting on canvas.
This same work was exhibited also as a pop-up show in Brooklyn Home of Music, in Brooklyn, NY in July, 2017. In September of the same year, it was included as part of the Annual Art Show of Spread Art NYC, in Brooklyn.
He has developed a short career in street art as well, and has a sort of murals signed with his name in Quito as same as in other cities worldwide.
POA (Journey in the Nahualt language) is an enveloping installation that speaks and refers to the Chak civilization
as a way of memory and recording this lost language from a contemplative view.
http://irvingramo.com/
https://www.instagram.com/irving_ramo/
Pablo Bisoglio is an Argentinian artist living and working in Buenos Aires.
His work is based on visual constructions, utilising painting as the central medium, mixed with different materials and 3D constructions that trick the human eye.
His work has been exhibited in Buenos Aires, London, Zurich, Costa Rica, Berlin, Stockholm, Bilbao, Mar del plata and Beijing.
This time Mō Gallery is pleased to invite you to his solo exhibition, featuring a 1:1 scale painting installation, along with paintings and sketches made specially for this exhibition.
Join us for this exclusive one day exhibition at Voodoo55 and, as usual, we will treat you with a welcome drink and a great atmosphere!
An audio-visual exploration of the human form.
To open Gallery Weekend Berlin, Mō Gallery invites you to our one-night exhibition where we explore how our perception of the human body influences our work, and how this can be affected by analogue sounds.
This time we present 5 international artists using different media that, when put together, will create an exotic harmony.
Get prepared for a real experience, pass by and get a drink with us!
Artists:
-Harry Dean Hudson
Improvisational audio
-Enrico Nagel
Collage
http://www.enriconagel.com/
-Megan Archer
Painting
http://www.meganjarcher.com/
-Romily Alice Walden
Neon Lights
http://www.romilyalicewalden.com/
-Zuhra Hilal
Costume Design
http://www.zuhrahilal.com/
27th of April
20h
Müllerstr. 55 – Wedding
We cant wait to host you for the Xmas party of the season!
🦌 🎁 🎅❄️🎄🦌 🎁 🎅❄️🎄🦌 🎁 🎅❄️🎄🦌 🎁 🎅❄️
To celebrate Baby Jesus' bday and our last event of the year at the gallery we invite you to join us and get creative, so we are organising an ugly jumper contest, where two winners will receive a special artwork from our current exhibition.
🦌 🎁 🎅❄️🎄🦌 🎁 🎅❄️🎄🦌 🎁 🎅❄️🎄🦌 🎁 🎅❄️
All along the rhythmical pattern of tunes and knitwear, the Glühwein will be boiling and the dancefloor getting ready for your restless feet.
:: LINE UP ::
-Ben Meyer
-Izzy Demzky
As part of Boutique exhibition, this Saturday we are having live music by Nathan Bontrager and live tattoos by Rozita hand poked tattoos. If you'd like an appointment write us to hello@mogallery.co. Prices from 80eur to 180eur. 18.11.2017
Soon the holidays are upon us and, for the occasion, we are transforming MŌ Gallery into a curated boutique with several artists and designers on display. Our leading thought behind this exhibition is to present high quality contemporary art and design at various price ranges, that will delight you and your loved ones alike.
Amongst the exhibitors on display is our resident designer Hardman Design & Build, exclusively launching their new collection 'AMBER', which includes a range of wooden furniture built specifically for this exhibition's theme.
In curating these designs, they will be submerged with five contemporary artists working with different media; illustration, collage, painting and ceramics. In addition to our artists and designers, we are happy to be displaying select new vintage glassware from Modernes antique store. With this wide spectrum of creatives we hope to generate a diverse atmosphere with pieces for you to admire and purchase.
Artist
-Ben Meyer (painting)
-Rina Namaki (illustration)
-Maya Art (photography/painting)
-Esther Birch (drawing)
-Daniela Torres (photography)
Design
-Hardman Design & Build (new collection launch: AMBER)
-Modernes (vintage glassware)
Opening Party: 11. November 17.00
Exhibition: 11.11 – 22.12 (Mo-Sa 11h-19h)
Please write us an email if you wanna be part of our private Art Dinners. The first one will be on the 7.10.2017. Seats are limited, so be quick!
Up Next:
Artist: Enrico Nagel